Angst Movie + Youth Forum & Panel – Bowie Youth & Family Services
May 4, 2022 @ 6:30 pm

-

8:30 pm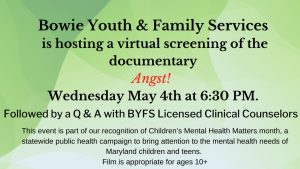 Bowie Youth & Family Services is hosting a virtual screening of the documentary Angst. Wednesday May 4th at 6:30 PM. This event is part of our recognition of Children's Mental Health Matters month, a statewide public health campaign to bring attention to the mental health needs of Maryland children and teens.
This documentary raises awareness of anxiety and normalizes how families and friends can approach this issue. Most individuals experience some level of anxiety as a part of life. For some people, however, anxiety can be a debilitating mental health issue that disrupts day-to-day life and prevents them from doing the things they enjoy. The film includes interviews with kids, teens, educators, experts, parents, and a very special interview with Michael Phelps. The goal is to help normalize the conversation about anxiety and mental health. Most importantly, we hope the film will help people identify and understand the symptoms of anxiety disorders and encourage them to reach out for help. Anxiety is treatable!
Registration is required to watch the film and join the webinar. Please contact Youth Services at (301) 809-3033 with questions or for further details.
PUBLIC LINK: https://bowie.fyi/youthforum