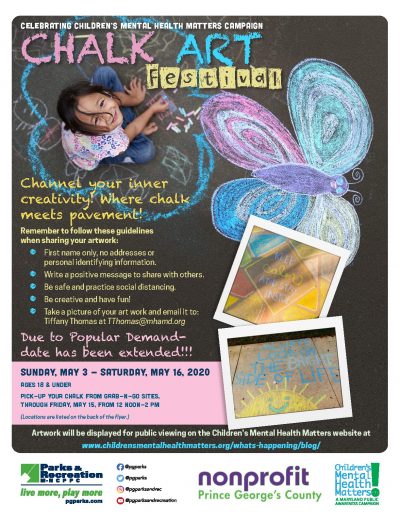 4/21
Chalk Art Festival - Celebrating Children's Mental Health Matter's Campaign
Click here to view event flyer
When: Sunday, May 3 - extended through Saturday, May 16, 2020
Who: Ages 18 and under
Where: Locate a paved area near your home in Prince George's County
No chalk, no problem! A limited amount of chalk is available on a first come, first served basis at the following M-NCPPC locations:
Marlow Height Community Center - 2800 St. Clair Dr., Marlow Heights, MD 20748
Oakcrest Community Center - 1300 Capitol Heights Blvd., Capitol Heights, MD 20747
Glenarden Community Center - 8615 McLain Ave., Glenarden, MD 20706
Please contact providers to verify, date, time and location for chalk pick-up. Note that locations may be different from office location.
Guidelines for sharing artwork:
First name only, no addresses or personal information
Please write a positive message to share with others
Be safe and practice social distancing
Be creative and have fun
Take a photo of your artwork and email to Tiffany Thomas at tthomas@mhamd.org
Artwork will be displayed here!
Sponsored by: Nonprofit Prince George's County & Parks & Recreation - MNCPPC
---
Check out the awesome chalk art below!