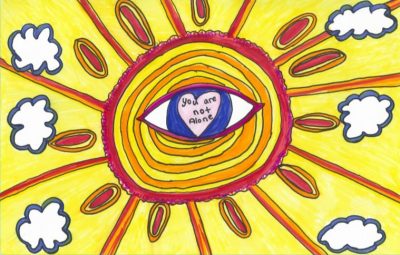 11/14
The Children's Mental Health Matters! Campaign released its annual Awareness Week Wrap Up Report this fall celebrating Schools and Communities across Maryland that helped reduce stigma and raise awareness around the importance of children's mental health. The 2019 Campaign broke history and previous records – reaching every jurisdiction in Maryland, exceeding goals for School and Community Champions, student participation, social media efforts and material distribution. School Champions across the state reached an all time high of 657 schools and 219 non profit agencies, providers, and other businesses participating as Community Champions.
On Monday, May 6th the Campaign hosted the fourth annual Celebrating Through Art: The First Lady's Mental Health Awareness Youth Art Display, which marked the beginning of Awareness Week. This year we had a record breaking 94 pieces of art submitted and 66 pieces selected for display. Students, their families and teachers joined First Lady Yumi Hogan, honorary chair of the Campaign, and other distinguished guests for an evening of celebration and honor. Two students were selected to speak in front of guests to share more about their pieces and each student in attendance received a certificate and was able to meet the First Lady.
Three Maryland Schools and three community organizations were selected as recipients of the 2019 Champion of the Year Award. During Awareness Week, these schools and organizations displayed excellence in unique, child and family focused, grassroots-level and educational opportunities within their communities. This year the recipients selected were: Schools – Bollman Bridge Elementary School (Howard County), McDonogh School (Baltimore County), Quince Orchard High School (Montgomery County), ESMART (Carroll County), City of Salisbury Youth Advisory Committee (Wicomico County), and Office of Children and Families – Family Institute and Care Center (Howard County).
Overall, the 2019 Campaign was an unforgettable year and gave our Champions much to reflect on leading up to, during and after Awareness Week. Our Champions were surveyed over the summer and shared that the Campaign encouraged them to "be a stronger advocate" and "helped them to make mental health part of the every day conversation." We hope that our Campaign goal, to reduce stigma and raise awareness around the importance of children's mental health only continues to grow as we begin to prepare for the 2020 Campaign. To learn more about the 2019 Campaign, download the full report.