Yoga Ready 2 Read Storytime: Ages 2-3 – Prince George's County Memorial Library System
May 21, 2022 @ 11:00 am

-

11:30 am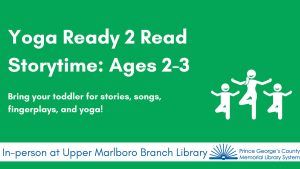 Bring your toddler for stories, songs, fingerplays, and yoga!
Register here: https://www.pgcmls.info/event/6390353
Please be advised that the status, location, or format of this event may change based on COVID-19 pandemic conditions. Please visit this page prior to traveling to the branch/venue for the program.
Face masks and physical distancing are required for all participants over the age of 2.
Please register via the link on this page or by calling (240) 455-5451 to show interest and to receive event updates.
Registration does not guarantee admission.
Participation is permitted on a first-come, first-served basis.
Capacity limits may apply.
Tenga en cuenta que el estado, ubicación, o formato de este evento puede cambiar dependiendo de las condiciones de la pandemia COVID-19. Por favor, visite esta página antes de ir a la sucursal/lugar para el programa.
Máscaras y distancia social se requieren para todos los participantes mayores de dos años.
Por favor regístrese por medio del enlace en esta página o llame al (240) 455-5451 para demostrar su interés y recibir las últimas noticias.
La registración no garantiza su admisión.
La participación se permite por orden de llegada.
Podrá aplicarse límites de capacidad.